The Latin Community were thankful to have Father Ryan FSSP  filling  in and celebrating mass while Fr. Domotor is on vacation,  Fr. Ryan traveled here from Nebraska and is celebrated a latin mass every day during his stay.   Fr. Ryan has traveled at his own expense to be here for us.  Donations to offset some of his expenses are still very welcomed.  Should you wish to donate, please put your donation in an envelope and pass it to Mrs Elie Raeder or Mr. Peter Stornebrink .  Thank you.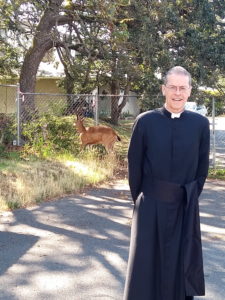 ********
Are you a "shut in" or in the hospital?  I found myself in this situation recently and found a way to take part in the Latin Mass.  This mass originates from several different countries and can be viewed on your laptop, computer or if you have a google chrome device, by casting to your TV.   I have only watched the mass from Warrington but there are also masses from Sarasota, Fribourg and Guadalajara.  Once on the Live Mass website you can click on daily Mass or Sunday Mass.  There is no charge for this but they do welcome donations. To visit the website please
click here
NOTE:  The website for the Latin Mass sometimes responds with page can not be reached if that happens simply click again and it should come up.
 **********
We are seeking an assistant webmaster.  If you enjoy computers and are familiar with the software "WordPress" and would be interested in helping out, contact Mr. Peter Stornebrink after mass.  A little understanding of HTML is also useful but not totally necessary.
**********
Enjoy singing? Why not join our Latin Mass choir.  If this interests you, please contact Mrs. Elie Raeder after Sunday Mass.
**********
You are encouraged to join us downstairs after the Sunday 12 noon Latin Mass.  Refreshments are served and the friendly conversation is wonderful.
**********
Did you know?  The Roman Rite Mass appeared in the Roman Missal for 492 years from 1570 to 1962.
**********
This page is  intended for use by members of the Queen of Peace Latin community to publish functions within the Latin congregation.
Published items could be book or bake sales, charity drives, pot luck dinners, invitations to various events of interest to the Latin community or volunteers for servers or choir members.
To publish your post on this page a written copy should be passed to Mr. Peter Stornebrink or an email detailing your event sent to  latinmassvictoria@outlook.com .   If approved, your event will be placed on this page.  When making your submission, please indicate the pull down date so as not to clutter this page with past events.